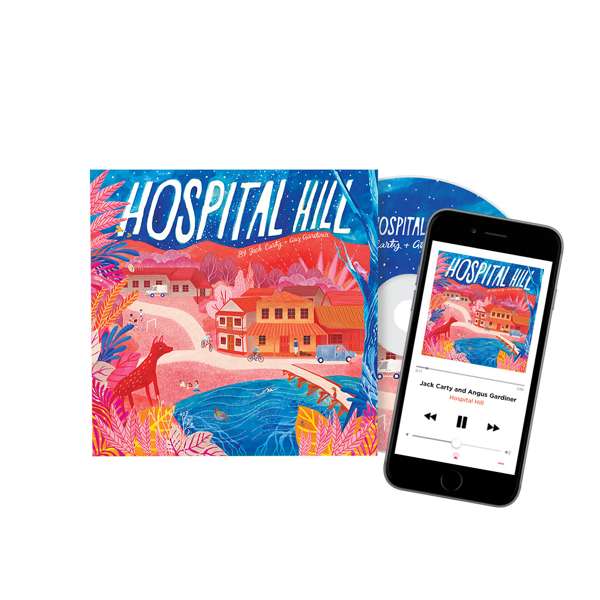 HOSPITAL HILL - signed CD + free download
The new album by Jack Carty and Gus Gardiner on a signed CD. Comes with a free download.
HOSPITAL HILL on signed CD
HOSPITAL HILL digital download on release day
Instant digital download of the first single and title track "Hospital Hill".
---
Jack Carty: Vocals & Guitar | Liisa Pallandi: Violin I | Thibaud Pavlovich-Hobba: Violin II | Heather Lloyd: Viola | Gus Gardiner: 'cello
---
Written and Produced by Jack Carty & Gus Gardiner Recorded live at Hercules St Studios, Sydney Engineered by Paul McKercher, assisted by Tim McArtney Mixed by Gus Gardiner Mastered by Rick O'Neil at Turtlerock Artwork by Natasha Carty
This bundle also includes: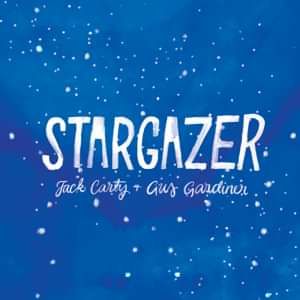 Jack Carty & Gus Gardiner - Stargazer (Single)
The third single from the new album HOSPITAL HILL due for worldwide release on 1 June 2018
Jack Carty: Vocals & Guitar | Liisa Pallandi: Violin I | Thibaud Pavlovich-Hobba: Violin II | Heather Lloyd: Viola | Gus Gardiner: 'cello
---
Written and Produced by Jack Carty & Gus Gardiner Recorded live at Hercules St Studios, Sydney Engineered by Paul McKercher, assisted by Tim McArtney Mixed by Gus Gardiner Mastered by Rick O'Neil at Turtlerock Artwork by Natasha Carty
This bundle also includes:
Jack Carty & Gus Gardiner - Antipodes (Single)
The second single from the album of the same name due for worldwide release on 1 June 2018
Jack Carty: Vocals & Guitar | Liisa Pallandi: Violin I | Thibaud Pavlovich-Hobba: Violin II | Heather Lloyd: Viola | Gus Gardiner: 'cello
---
Written and Produced by Jack Carty & Gus Gardiner Recorded live at Hercules St Studios, Sydney Engineered by Paul McKercher, assisted by Tim McArtney Mixed by Gus Gardiner Mastered by Rick O'Neil at Turtlerock Artwork by Natasha Carty
This bundle also includes: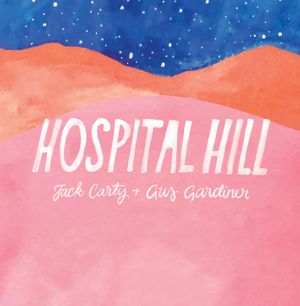 Jack Carty & Gus Gardiner - Hospital Hill (Single)
The first single from the album of the same name due for worldwide release on 1 June 2018
Jack Carty: Vocals & Guitar | Liisa Pallandi: Violin I | Thibaud Pavlovich-Hobba: Violin II | Heather Lloyd: Viola | Gus Gardiner: 'cello
---
Written and Produced by Jack Carty & Gus Gardiner Recorded live at Hercules St Studios, Sydney Engineered by Paul McKercher, assisted by Tim McArtney Mixed by Gus Gardiner Mastered by Rick O'Neil at Turtlerock Artwork by Natasha Carty
This bundle also includes: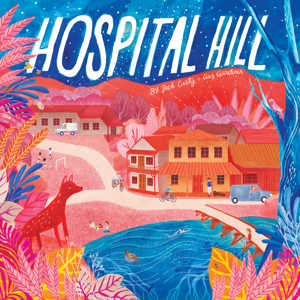 Hospital Hill - digital album
The new album by Jack Carty and Gus Gardiner as a digital download
Jack Carty: Vocals & Guitar Liisa Pallandi: Violin I Thibaud Pavlovich-Hobba: Violin II Heather Lloyd: Viola Gus Gardiner: 'cello
Written and Produced by Jack Carty & Gus Gardiner Recorded live at Hercules St Studios, Sydney Engineered by Paul McKercher, assisted by Tim McArtney Mixed by Gus Gardiner Mastered by Rick O'Neil at Turtlerock Artwork by Natasha Carty
This bundle also includes: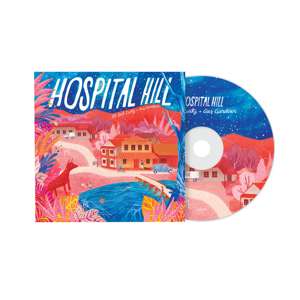 Hospital Hill - signed CD
The new album by Jack Carty and Gus Gardiner on signed CD
Jack Carty: Vocals & Guitar Liisa Pallandi: Violin I Thibaud Pavlovich-Hobba: Violin II Heather Lloyd: Viola Gus Gardiner: 'cello
Written and Produced by Jack Carty & Gus Gardiner Recorded live at Hercules St Studios, Sydney Engineered by Paul McKercher, assisted by Tim McArtney Mixed by Gus Gardiner Mastered by Rick O'Neil at Turtlerock Artwork by Natasha Carty